In my last post I talked about the process of setting up a legal business. That business is FooPlugins.com and has been launched. I wanted to write today to share how the launch went and what to expect next from us.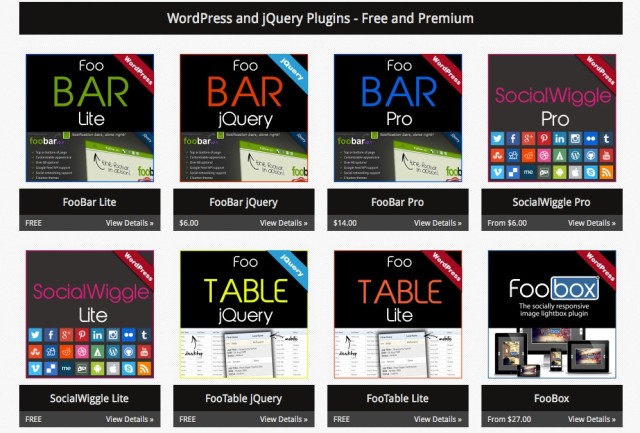 I've said it before, but I want to reiterate. Without you and my amazing business partner, I would not have been able to learn, build, and launch this WordPress plugin business. One step has led to another in the past few years and I'm living proof that taking action (rather than waiting to create the perfect plan) is a critical step in creating your own success.
Now, I'm not saying I haven't had failures along the way. Far from it. I've stumbled with my products, I've missed some critical customer service issues, I've gotten depressed with the time it has taken to move forward. Failure is perhaps not the right word to use.
Every time I think I've "failed", it was actually an important step in learning about building my business. I've been fortunate enough to turn those into positives and because of that, I give myself the will to keep moving forward.
You can do the same, and I hope you are.
Anyway, enough of my motivational speech…I'm no Tony Robbins;)
The Launch
I'd like to talk about FooPlugins.com for a moment and give you an idea of how we launched and where we're at after 10 days of being "live".
You may be familiar with the normal Internet Marketing launch process. You get a series of emails letting you know something awesome is launching soon. This builds awareness sure, but mostly it's to build anticipation for both potential customers and affiliates.
We didn't really do that, not in the standard Internet Marketing way at least. Sure, we had a splash page with an email opt-in allowing people to get on the notification list, but we didn't try to drum up affiliates to help us with our launch. It just wasn't the business model we were after. We do have an affiliate program and will be announcing more details more widely soon.
As you probably know (at least I feel like I say it a lot), I am a huge proponent of WordPress and of getting involved with the large community around it to share advice and knowledge. Because I'm so engrained in the community we decided to launch our business and brand at a WordCamp.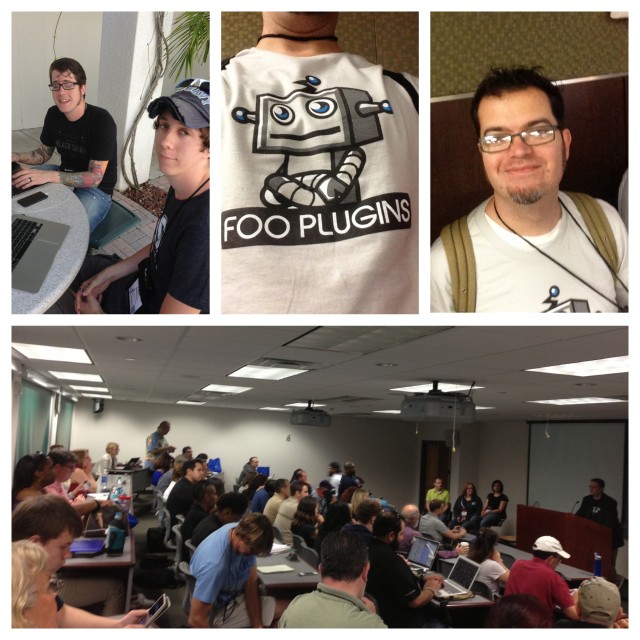 If you're not familiar with WordCamps, I would highly suggest you find one near you and attend or volunteer. Not only are they great for gaining knowledge, but also for networking with other users of all types…developers, designers, bloggers, social media managers, and the list goes on.
These are the people we wanted to know about FooPlugins.com first. A very targeted market. Everyone at a WordCamp has at least heard of WordPress, and most already utilize it and know what plugins are. Most WordCampers are also very social…and this was our focus…for a few reasons.
Successes
We guessed that anyone getting a t-shirt, sticker, or otherwise learning of FooPlugins.com would be likely to share our links. And that happened. A lot. So I consider that a success.

In addition to the social numbers, we are seeing a steady stream of visits to our site. That's a good thing. However, the number of conversions (or downloads of both free and paid plugins) is lacking when compared to our number of visitors.
Failures Improvements to Make
We think we have a pretty good idea of why those conversions mentioned above are lacking, and we have been working hard to prioritize our todo list in order to improve quickly. Here's a short list:
Number of plugins and variety – We launched with eight plugins. Four WordPress and four jQuery. Of those eight, only four are paid plugins. My gut tells me we could have made a bigger splash with a larger and more varied product offering. It's not that we don't have additional plugins already in development. We do. Over a dozen of them at last count. The reason they weren't included in the launch was because we weren't confident in releasing them without being properly tested.
Offsite plugin purchases – Two of our plugins are on CodeCanyon and one is on it's own domain. As you might imagine, this is confusing for visitors and although there have been several downloads of these, we received immediate support tickets asking why. These plugins existed offsite before FooPlugins was even an idea, and merging these fully into FooPlugins is our top priority. It's a slippery slope as we also have to account for existing affiliates and customer accounts to make sure the migration is as seamless as possible for our users.
Of course there is a lot more to gaining traction other than the two points above. We've started the marketing and community outreach machine and if we do things right, you'll be hearing a lot more about FooPlugins very soon.
What's Next?
We have a lot of moving parts all needing to happen at the same time and the two tasks above are the highest priorities right now. However, we do have some other very exciting things planned for the FooPlugins marketplace. I can't share too much at the moment (or just did I?) but we aim to be first to come to market with something really cool in the WordPress and jQuery plugin community. Right now, these are code named "Phase 2" and "Phase 3". How original eh? 🙂
Do You Like What We're Doing?
If you think what we're doing with FooPlugins is cool, we'd love it if you could help us spread the word about our existence. Simply choose your favorite social network and share the FooPlugins.com link, or feel free to contact us through our site to learn more about what we have planned.